Step Up to Complete Francisco Park
Francisco Park will recognize contributions of $10,000, $5,000, and $1,500 with a dedication etched into the Stairs. This is an opportunity to honor your family's legacy or pay tribute to a loved one, a hero, or a pet. Your generosity will be appreciated, now and for many steps into the future.
THANK YOU!
Construction Update
Construction of Francisco Park began in summer 2019 and is now 75% complete! The rainwater catchment system has been installed, the convenience/maintenance building is complete, utilities and underground work are completed, retaining walls are in place, rough grading is finished, and ADA-accessible walkways and railings are mostly installed. In the coming months, we will start to see the park literally come to life as topsoil, sod, and plantings are installed. The park is still on track to open early 2021!
Video Overview
The City of San Francisco has given the community a unique opportunity to transform the unused Francisco Reservoir site into a brand new public park overlooking some of the most famous scenery in the world. Watch this short video to learn the history, latest news, and how you can get involved.
Approved Conceptual Design
After extensive community outreach, we arrived on a conceptual design which incorporates native plants and trees, as well as an ADA-accessible pathway linking features including a central green lawn, children's playground, fenced dog-run, community garden, and view terraces.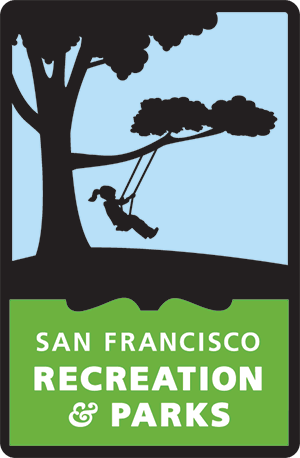 Francisco Park Conservancy is working in partnership with the San Francisco Recreation & Park Department